The program aims to graduate a cadre of pharmacists capable of:
Working primarily in hospitals and providing comprehensive pharmaceutical care to patients.
Working in community pharmacies and supplying pharmaceutical factories with trained competencies.
Working in the pharmaceutical industry and conducting research and scientific studies concerned with the development and discovery of pharmaceutical preparations and compounds with a focus on the exploitation of local natural resources.
Improving the health and well-being of patients by facilitating and providing safe and effective medicines.
Strengthening the role of pharmacists in improving public health and preventing disease through education.
Providing continuing pharmacy education programs and contributing to the organization and holding of seminars, courses and conferences in various pharmaceutical sciences.
Contribute to the field of scientific publishing and awareness through various publications.
Research work in patient care and public health.
Arabic for requirements
English for specialized subjects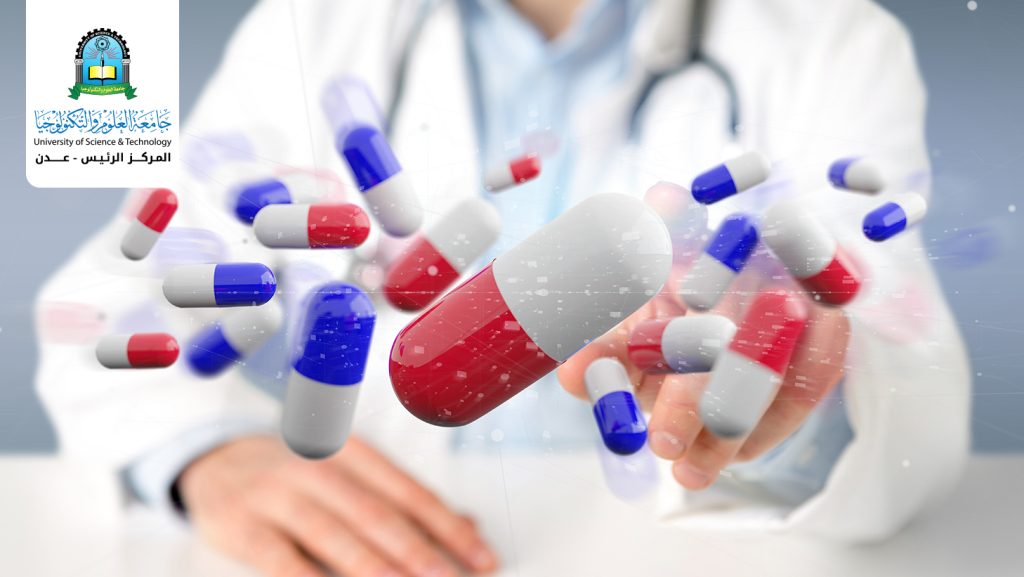 Get the TOEFL exam in the English language.
Obtaining the International Computer Driving Certificate (ICDL).
Teaching some requirements that give the student the skills of communication, leadership and critical thinking.
The study system is in English with the exception of some requirements in Arabic.
Certification accredited locally, regionally and globally.
Full-time qualified and qualified teaching staff.
Modern curricula that meet quality requirements and standards.
Academic guidance and study follow-up by faculty members.
An appropriate learning environment.
Well-equipped and advanced laboratories.
The number of students in lectures and labs is less.
Clinical training for students in a university hospital.
Provides training places for students through agreements with some training bodies and distinguished relations with the college.
Multiple opportunities to work after graduation and in different countries.
Possibility to continue postgraduate studies.
The presence of a training pharmacy in the college.
Work in government and private hospitals as part of the medical team.
Work in governmental or private community pharmacies.
Work in a hospital pharmacy.
Work as delegates or scientific supervisors in pharmaceutical companies.
Work in research and drug control centers.
Academic work as faculty members in universities.
Work in pharmaceutical factories.


General Conditions:
As in the admission and registration guide.
special conditions:
A high school score of at least 75%.
No more than 5 years have passed since the high school diploma.
The student submits an original and a certified copy of the high school diploma.
The student submits a copy of the ID card if he is Yemeni and a copy of the passport if he is a foreigner.
A detailed explanation of the PharmD program:
To prepare a clinical pharmacist capable of serving the community, providing patient-centered care and actively participating in other areas of pharmacy through advanced education, clinical training, and joint research.
Enhance students' knowledge and skills in various academic disciplines.
Supporting practical and scientific research efforts in various fields.
Linking learning outcomes to labor market requirements
Expanding partnerships and developing relations with universities and other scientific research institutions locally, regionally and internationally.
Prepare graduates to provide high-quality patient care and the ability to work with other healthcare professionals to meet patients' needs.
A six-year undergraduate program with a total of 205 credit hours, primarily aimed at providing academically competitive education and professional training in pharmacy, both theoretical and practical, so that students acquire up-to-date knowledge and understanding as well as develop minds to appreciate and apply primarily acquired knowledge, skills and technology For the benefit of their community and profession by providing evidence-based advice to patients and the public on public health issues. Graduates will have a strong academic foundation and will be competitive pharmacists prepared for their roles in improving healthcare. This program started in 2017, and was approved based on the following regional and global references:
King Saud University
University of Jordan
Qatar University
Jordan University of Science and Technology
Boston University
The program consists of two parts:
Clinical pharmacology department:
It includes all materials related to hospitals, treatments and administration in the pharmacy profession.
Department of Pharmaceutical Sciences:
It includes all the basic subjects of pharmacy education such as analytical chemistry - organic chemistry - pharmaceutical chemistry - drugs and medicinal plants - pharmacology and toxicology.
As well as some subjects related to the pharmacy profession in fields other than hospitals, such as pharmacies and alternative medicine.
Documents specification of the program and courses of the Bachelor of Pharmacy
Document describing the Bachelor of Pharmacy program
The courses of the Bachelor of Pharmacy program are described
Scan similar programs and bookmarks